At first, Christina Macmillan wasn't crazy about her 12-year-old son Austen watching Stranger Things, the fictional Netflix show pitting a group of children against aliens and demons. But she's changed her mind after her son used a CPR technique that he saw on a scene from the series to save his registered behavior technician's life this past Labor Day.
"I was a little hesitant about him watching it," Macmillan told the Guardian, citing the show's science fiction-horror premise. "But I'm definitely glad that I let him."
The extraordinary story of how Austen Macmillan rescued 30-year-old Jason Piquette unfolded at the boy's family home in Wellington, Florida, near West Palm Beach on 4 September.
Austen began seeing Piquette about three years earlier for applied behavior analysis therapy. And that day, they were swimming in the Macmillan home pool as part of their 20 or so hours of work each week together.
As they swam, they eventually began seeing which of them could hold their breath underwater longer, keeping track with a timer. Austen discerned something had gone drastically wrong when he saw the timer reach about five minutes on one of Piquette's turns.
"I knew that was way too long," Austen later told the local television news station ABC7. "He cannot do that."
A security camera at the Macmillan home recorded Austen as he swam to pool's deep end, went under and pulled Piquette out onto the steps. Macmillan said Austen tried to use the emergency unlock feature on Piquette's cellphone to dial for emergency help – but the touchscreen button enabling him to call first responders was cracked.
The boy didn't realize until later that he could have also activated the phone's emergency unlock feature by holding two buttons on the side of the device down for a few seconds. So Austen, whose parents weren't home at the time, ran to the front yard and screamed, "Someone help!" – harrowing moments that the security camera also captured.
Austen soon returned to Piquette's side and did the most helpful thing he could think of: he began performing chest compressions on Piquette. He recalled watching Stranger Things with his family and seeing how one character had revived another in that fashion during a pivotal scene in the finale of the show's first season.
For that scene, characters played by Winona Ryder and David Harbour give chest compressions to her unconscious son, who is portrayed by Noah Schnapp.
The scene culminates with Harbour's character desperately beating on the chest of Schnapp's persona as the child suddenly reanimates, gasps for air, and is embraced tightly by a weeping but relieved Ryder.
In Austen's case, after a few minutes of compressions, and one chest strike strongly reminiscent of the ones on the show, Piquette regained consciousness. Austen's father got home from the grocery store a few minutes later, heard his son's panicked cries, and called for emergency help. Piquette was taken to a hospital which admitted him into its intensive-care unit, where he was given oxygen overnight.
But Piquette soon recovered enough to be discharged, and he was back to work by Friday of that same week, Macmillan said.
The days since have produced a range of emotions, according to Macmillan.
One is amazement. A Reddit thread from 2016 points out how the CPR technique demonstrated in the Stranger Things season one finale wasn't standard at the time that the show is set. One of the thread's commenters speculated that perhaps the show's creators did that because of prior instances in which people have administered life-saving CPR based off what they'd seen in movies and TV shows.
If that's what happened, Macmillan said, "It was definitely really smart of them."
Another emotion that MacMillan described is pride – for how her son's courage, confidence and independence had grown through therapy to the point that he saved an adult's life.
"He's my little superhero," Macmillan told the Guardian. "It shows he's more capable than what a lot of people give him credit for – and what he gives himself credit for."
She joked that her son has forever invalidated the excuses he typically offers when he tries to convince her that he simply is unable to clean up his room by himself.
"I'm like, 'Dude, you can clean your room – you can pull a grown-up out of the room and perform chest compressions," she said.
For his part, Piquette echoed Macmillan in a statement to the Guardian. "Austen showed courage in the face of an incredibly terrifying and seemingly hopeless situation, and he should always know he's strong enough to face anything in life – and that he's a hero."
But Austen, his mother and Piquette have also sought to raise awareness about CPR training and preventing blackouts in relatively shallow water.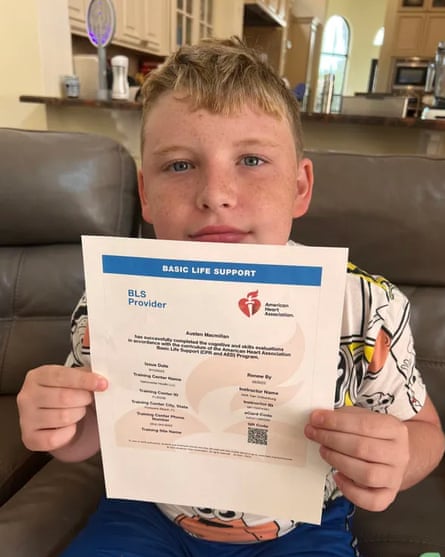 Macmillan said she arranged for members of her family as well as close friends to undergo a CPR and first aid certification course at her home on 10 September. After the course, Austen posed for a picture in which he proudly held up his newly earned American Heart Association Basic Life Support certificate.
He has also taken the time to learn all the ways to unlock a cellphone to be able to make an emergency call, Macmillan said.
Meanwhile, in his statement, Piquette acknowledged it was "a big mistake" trying to hold his breath underwater. He said he passed out in the first 30 seconds of his attempt and suspected that had occurred because of "hyperventilating beforehand".
"I was ignorant to the dangers, and I hope other people can learn from this," Piquette said.
Piquette also said he was grateful "God gave Austin the strength and wisdom to save my life in a time of great need".
"God will continue to use him to do great things," Piquette said.